A warm welcome to our new Lecturers who have joined the Department of Digital Humanities at King's College London this semester. We are pleased to welcome five Lecturers and three Academic Education Pathway (AEP) Lecturers:
Sophie Bishop (Lecturer)
Liliana Bounegru (Lecturer)
Peter Chonka  (Lecturer)
Ashwin Mathews (Lecturer)
Feng Zhu (Lecturer)
Samuel Moore (AEP Lecturer)
Daniel Nemenyi (AEP Lecturer)

Photini Vrikki (AEP Lecturer)
You can find out more about them in their bios below.🎈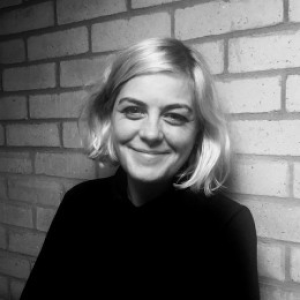 Sophie Bishop (Lecturer)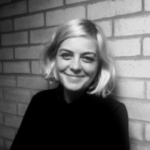 Sophie Bishop (@sophiehbishop) recently completed a PhD at the University of East London, examining the political economy of beauty vlogging on YouTube, algorithmic materialities and self-optimisation practices on the platform. She holds an MA and a BA(hons) from the University of Sussex. She is the incoming Social Media Editor for the journal Feminist Media Studies.
Her research interests lie at the intersection of gender studies and platform studies. They are informed by her time working in Digital Marketing industries for global beauty and entertainment brands. She has founded, and hosts, a successful comedy night at the Wardrobe Theatre, aiming to bring diverse voices to the comedy scene.
Liliana Bounegru (Lecturer)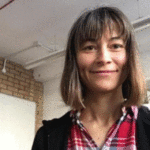 Liliana Bounegru (@bb_liliana) is Lecturer in Digital Methods at the Department of Digital Humanities, King's College London. Previously she was a postdoctoral research fellow at the Oxford Internet Institute (University of Oxford). Since 2013 she has been a researcher at the Digital Methods Initiative (University of Amsterdam), where she also acted as Managing Director between 2014 and 2016. She is also a research associate at the Sciences Po Paris médialab, where she was a visiting researcher and lecturer in 2016. She obtained her double PhD degree (cum laude) from the University of Groningen and Ghent University. She co-founded the Public Data Lab, a network of research labs which seeks to facilitate research, democratic engagement and public debate around the future of the data society. In parallel to her academic work, she was Data Journalism Program Lead at the European Journalism Centre.
Her work covers new media, digital culture, digital journalism, data journalism and digital methods, and has been published in New Media & Society, Big Data & Society, Visual Communication and Digital Journalism. She is co-editor of The Data Journalism Handbook (O'Reilly Media, 2012; University of Amsterdam Press, forthcoming), translated into fifteen languages. She is co-investigator of A Field Guide to Fake News and Other Information Disorders, a transnational, multi-institutional research collaboration to develop digital methods to trace the circulation of political misinformation, junk news, memes and trolling practices online (also available in Japanese).
She has taught courses in digital methods, data journalism, digital journalism and controversy mapping at King's College London, the University of Siegen, University of Amsterdam, Sciences Po and the Paris School of International Affairs. More about her can be found at lilianabounegru.org.
Peter Chonka (Lecturer)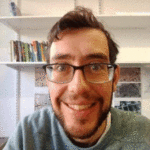 Peter Chonka (@PeteChonka) completed his PhD at the University of Edinburgh's Centre of African Studies in 2017. His doctoral research focused on transnational Somali-language media networks and their impact on the cultural politics of state reconstruction in the Horn of Africa. His recent publications have explored the production, dissemination and use of digital texts in this media environment, and online/offline contestation between the state and militant opposition groups. As such, he's interested in how the new media environment affects political reconstruction, civil society activism, and conflict in so-called 'fragile' states. He has also recently been affiliated with an ESRC/DFID-funded 'Security on the Move' research project, using innovative visual methods to explore displaced people's everyday perceptions of mobility, security and urbanisation in Somali cities.
He has previously taught in the fields of African Politics and Development Studies at SOAS and Birkbeck (University of London). Prior to his doctoral research he worked as a Somali-interpreter for the International Committee of the Red Cross, primarily in places of detention across Somalia.
Ashwin Mathew (Lecturer)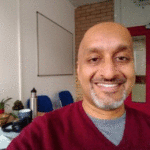 Ashwin Mathew (@ashwinjm) is an ethnographer of Internet infrastructure, studying the technologies and technical communities involved in the operation of the global Internet. He is interested in how the Internet is built and maintained in everyday practice; and how the cultures of the Internet's technical communities circulate and are re-articulated across Global South and Global North in the process of operating the Internet.
He joined the Department of Digital Humanities in September 2019. He holds a Ph.D. in Information Management and Systems from the UC Berkeley School of Information. Prior to his doctoral work, he spent a decade as a programmer and technical architect in companies such as Adobe Systems and Sun Microsystems.
You can find more information about him at sanmathi.org/ashwin.
Feng Zhu (Lecturer)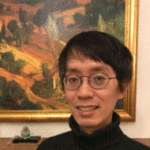 Feng Zhu holds a PhD from the University of Manchester (Sociology), an MA from The Courtauld (History of Art), and a BA from University College London (Philosophy and the History of Art). His ESRC and President's Doctoral Scholarship funded PhD explored the ways in which player practices in contemporary single-player computer games (particularly RPGs) can be said to be aligned with what may be called a 'neoliberal self-fashioning' or to constitute the Foucauldean aesthetic practices of the self that lead to a 'transformation' or 'transfiguration' of the playing subject. As such, it examined 'playful' self-formation as a terrain on which power and resistance plays out, delving into the limitations of Foucault's anti-normative ethico-aesthetics in order to do so.
Feng has taught courses that have spanned media studies, game studies, critical social theory, and aesthetics. He is a section editor for the Journal of the Philosophy of Computer Games.
Samuel Moore (AEP Lecturer)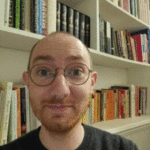 Samuel A. Moore (@samoore_) is Lecturer in Digital Media and Communication at King's College London. He has a Ph.D in Digital Humanities (also from King's) and over a decade's experience as a publisher and researcher with a focus on open access and the digital commons. His research and teaching sit at the intersections of information studies, critical theory and science & technology studies (STS). He is also one of the organisers of the Radical Open Access Collective and he blogs at <https://www.samuelmoore.org/>.
Daniel Nemenyi (AEP Lecturer)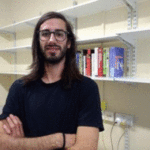 Daniel Nemenyi (
@DanielNemenyi
) joins Kings having completed his PhD at the Centre for Research in Modern European Philosophy, Kingston University London, earlier in 2019. His research involves conceptual histories of the present's constitutive moments. In his thesis he takes a new approach to addressing what Gilles Deleuze calls the 'Society of Control' by turning to its realisation in the invention of the Internet (through JCR Licklider's ARPA-funded networks), and its philosophical instantiation in the cybernetics of Norbert Wiener. Drawing out Wiener's critical relation to Leibniz and Hobbes, Neo-Kantianism, Claude Bernard, Walter Cannon, Henri Bergson and Game Theory, he advances a historically-grounded conceptual grammar of 'The Digital' involving concepts such as information and disinformation, cryptography, machine learning, cyberwar and cyborgs, networks and internet itself. His transdisciplinary research continues along these lines, and he is currently researching the emergence of 'cyberspace' within the guerilla video art movement of the 1970s. Daniel is an editor and engineer of the journal Radical Philosophy and his Twitter handle is
@DanielNemenyi
.
Photini Vrikki (AEP Lecturer)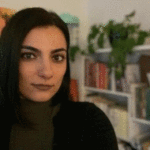 Photini Vrikki's research and teaching focus on the links between social and digital inequalities; power and data; and algorithmic cultural developments. By combining multi-disciplinary approaches with concepts and theories drawn from sociology, political economy and cultural theory, her work explores how digital media can be used to both reinforce and challenge racism, inequality and oppression; and the questions of power, agency and ideology within the digital, cultural and creative economies.
Photini's three-year postdoc Research Fellowship in Digital Humanities at Brunel University London (2016-2019) was part of a large consortia collaborative AHRC funded project called Creative Interruptions (creativeinterruptions.com). She holds a PhD in Digital Culture and Society from King's College London, an MA in English from King's College London and a BA in English Literature from University of Surrey. Her PhD dealt with the US Occupy Wall Street movement, and traced its narratives of resistance, media mis/representation, police oppression and identity politics on Twitter.
Since 2019, Photini has been co-building the research profile of Media What (mediawhat.org), an NGO committed to promoting media education through participatory media production activities that empower community voices and enhance media literacy and critical thinking. She is also on the Advisory Committee for "CYberSafety" in Cyprus, which aims to develop the National Strategy for a Better Internet. She is on Twitter at @iPhotini.