We're happy to announce that the Department of Digital Humanities at King's College London is supporting the free and open source RAWGraphs tool as a "gold sponsor".
Described as the "missing link between spreadsheets and data visualization", RAWGraphs was initiated at the award-winning DensityDesign Lab in Milan, and is widely used by a wide variety of researcher and practitioner communities – from digital humanities, digital methods, internet studies and platform studies scholars to data journalists, data activists and civil society groups around the world.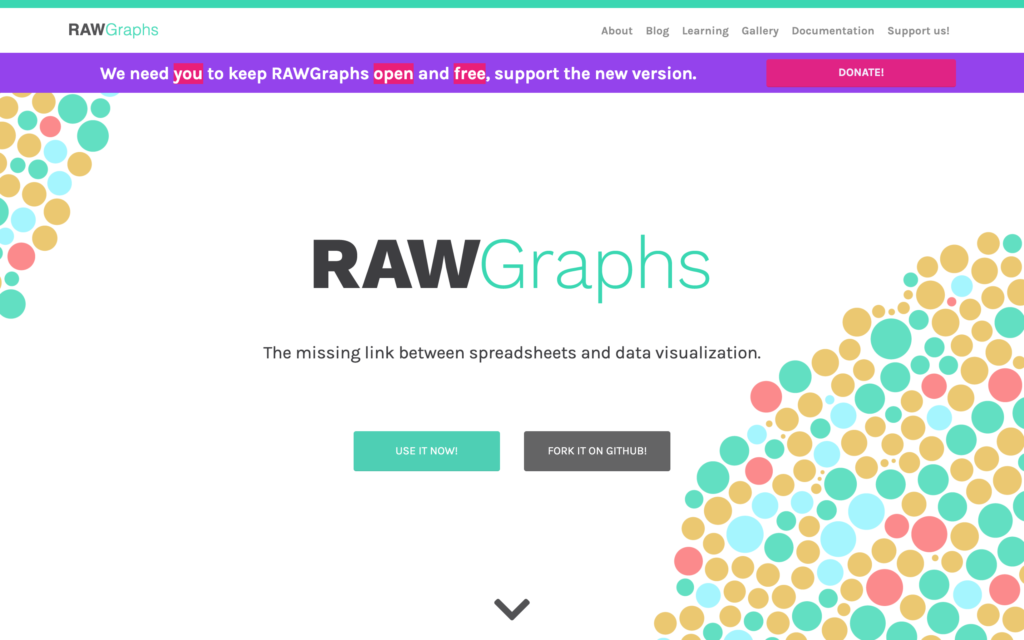 At King's College London we use Raw Graphs for teaching on several of our undergraduate and graduate modules, including Digital Methods: Working with Data (BA), Digital Journalism (BA), Data Activism (MA), Introduction to Data Journalism (MA), Digital Methods for Internet Studies: Concepts, Devices and Data (MA) and Data Visualisation (MA). It has also been used in research projects such as the Field Guide to "Fake News" and Other Information Disorders.
Amongst other things, support for the project will enable new chart options; more user features; support for legends, annotations and customisation; and more educational materials. You can find out more in this video and if you use it or would like to support it there is still time to contribute to the crowdfunding campaign.
On behalf of the RAWGraphs team, Michele Mauri, Scientific Director of DensityDesign Lab commented on the support:
"We're glad to receive support from a world-leading academic institution such as the Department of Digital Humanities at King's College London. Since RAWGraphs was born at a university, it is important for us to see that it continues to be used, supported and shaped by researchers and students. This support will mean that we can continue our mission of developing this open source project for everyone to use."
Stuart Dunn, Head of Department and Senior Lecturer in Digital Humanities at King's College London said:
"Our department has long been a centre for exciting and cutting edge work on, with and about Free/Open Source Software in the context of humanities research. We're thus delighted to become a Gold Sponsor of RAWGraphs, and are looking forward to working with their team as it is developed further – as well as exploring other new ways of creating data visualisations in our research and with our students."