Update: Video for all three events is now available at the following links:
---
We're delighted to announce a series of three events for Black History Month in the Department of Digital Humanities. Please note that separate registration is required for each event.
Black British Digital Studies

Join us for a conversation between Dr. Francesca Sobande, Rianna Walcott, and Keisha Bruce about their research in Black British Digital Humanities, Francesca's latest book, the Digital Lives of Black Women in Britain, and their experiences as Black British scholars.
When: Tuesday, 27th October 2020, 5:00-6:30 pm GMT
Register: https://www.crowdcast.io/e/black-british-digital-studies
Dr. Francesca Sobande is a lecturer in digital media studies at the School of Journalism, Media and Culture at Cardiff University. She is Course Director of the BA Media, Journalism and Culture programme and is an affiliate of the Data Justice Lab. Francesca's work focuses on digital culture, Black diaspora, feminism, creative work, and the experiences of Black women. She is author of The Digital Lives of Black Women in Britain (Palgrave Macmillan, 2020) and is co-editor with Professor Akwugo Emejulu of To Exist is To Resist: Black Feminism in Europe (Pluto Press, 2019). Francesca tweets at @chess_ess and more about her work can be found at francescasobande.com.
Rianna Walcott (she/her) is an LAHP-funded PhD candidate at Kings College London researching Black women's identity formation in digital spaces, and a graduate twiceover from the University of Edinburgh. She co-founded projectmyopia.com , a website that promotes inclusivity in academia and a decolonised curriculum. She frequently writes about feminism, mental health, race and literature for publications including The Wellcome Collection, The Metro, The Guardian, The BBC, Vice, and Dazed . Rianna is co-editor of an anthology about BAME mental health – The Colour of Madness , and in the time left over she moonlights as a professional jazz singer. Rianna tweets at @rianna_walcott and more about her work can be found at riannawalcott.com.
Keisha Bruce is a Midlands4Cities-funded PhD researcher in Black Studies at the University of Nottingham. Her research interests include Black popular culture, diasporic visual cultures, and digital media representations. Her PhD thesis explores Black women's digital visual cultures on social media with a particular focus on how identity is mediated, and diasporic community is fostered online through processes of visuality and affect. Outside of her thesis she is currently undergoing an archiving project on Black girlhood in Britain. You can find her on Twitter at @keishastweets.
Black Joy on Black Twitter: An In-Conversation with André Brock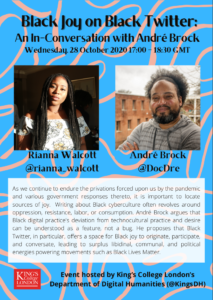 As we continue to endure the privations forced upon us by the pandemic and various government responses thereto, it is important to locate sources of joy. Writing about Black cyberculture often revolves around oppression, resistance, labor, or consumption. Brock, however, argues that Black digital practice's deviation from technocultural practice and desire can be understood as a feature, not a bug. He proposes that Black Twitter, in particular, offers a space for Black joy to originate, participate, and conversate, leading to surplus libidinal, communal, and political energies powering movements such as Black Lives Matter. Rianna Walcott will discuss how she uses Brock's perspectives in her research on Black British digital cultures.

When: Wednesday, 28th October 2020, 5:00-6:30 pm GMT
Register: https://www.crowdcast.io/e/blackjoy
André L. Brock is an Associate Professor in the School of Literature, Media, and Communication at Georgia Tech. He is an interdisciplinary scholar with an M.A. in English and Rhetoric from Carnegie Mellon University and a Ph.D. in Library and Information Science from the University of Illinois at Urbana-Champaign. His scholarship includes published articles on racial representations in videogames, black women and weblogs, whiteness, blackness, and digital technoculture, as well as groundbreaking research on Black Twitter. His article "From the Blackhand Side: Twitter as a Cultural Conversation" challenged social science and communication research to confront the ways in which the field preserved "a color-blind perspective on online endeavors by normalizing Whiteness and othering everyone else" and sparked a conversation that continues, as Twitter, in particular, continues to evolve. His most recent book is Distributed Blackness: African American Technocultures, published by NYU Press. You can find him on Twitter at @DocDre.

Black Speculative Fiction
Like many parts of our lives, the cultural artifacts that shape our imaginations – films, books, and so on – are shaped by relationships of race. Join us for a free-wheeling conversation between Black speculative fiction authors, Hamza Mohamed and Ayize Jama-Everett, for an exploration of the role and importance of Black voices in shaping our collective imaginations of the present, and possible futures.
When: Saturday, 31st October 2020, 5:30-6:30 pm GMT
Register: https://www.crowdcast.io/e/blackspeculativefiction
Hamza Mohamed launched his own publishing imprint, Wings of Crows in the beginning of 2020 with his debut novel Abeed: Dreams of a Lost Nation, the first of a trilogy. His work weaves stories from East Africa and it's diasporas. With Wing of Crows, Hamza hopes to build a platform for Black writers as well put an emphasis on Black protagonists in fiction. You can find him on Twitter @HajimeNoHamza.
Ayize Jama-Everett was born in 1974 in Harlem New York. He holds three Master's degrees (Divinity, Psychology, and creative writing), and has worked as a bookseller, professor, and therapist. He desires to create stories that people want to read, and he believes the narratives of our times dictate future realities. Three of his books have been published by Small Beer Press – The Liminal series – with another on the way.  He's published a  graphic novel with noted artist John Jennings, entitled The Box of Bones, and a graphic novel adaptation of The Count of Monte Cristo is forthcoming from Abrams Press. Shorter works can be found in The Believer, LA review of books, and Racebaitr. You can find him on Twitter @AyizeJamaEveret.