Festival Grounded is a festival of electronic music, critical thinking and activism that will take place from 21. to 23.11. in Ljubljana, Slovenia. This year's theme is Intimacy in the age of Artificial Intelligence, and we are extremely proud to announce that a former and a current student of our Big Data MA, Nika Mahnič and Kamila Koronska, are among the speakers of this year's Festival Grounded, next to renowned researchers from the United Kingdom, namely Professors Kathleen Richardson, Andrew McStay and Vian Bakir.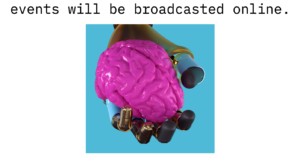 Besides a progressive music programme, more than 30 speakers will present critical approaches and engage in debates on the role of information technology and specifically artificial intelligence in the interference with our everyday lives. For those interested, the event will be livestreamed here.  The timetable shows times in CET (GMT + 1), as well as specify the language of the event.
One of the programme selectors was Big Data MA graduate Nika Mahnič, who wrote about the theme of this year's edition: "Recognizing the complexity of the current situation, we strive towards literacy and the recognition of the role of artificial intelligence technologies, whose importance for economic growth is increasing in parallel with the growth of authoritarianism. For their smooth operation, artificial intelligence and robotics require big data that are importantly changing, limiting and directing our practices. While the pioneers of the Fourth Industrial Revolution are freeing up market barriers through enabling the legal subjectivity of machines or robots, it is essential to provide a platform for reflecting on the various interventions of machine intelligence into intimacy and spontaneity of everyday life."
Nika has also published the article 'Encountering bloody others in mined reality' in the academic journal AI & Society, in which she explores interpersonal and human–computer interaction in the era of big data.
Congratulations to Nika and Kamila – we wish an excellent festival!