Please join us to discuss AI and how to research it from a humanities point of view. We will present new research in progress from the much hyped text-to-image systems and the 'calculation of meaning' to trustworthiness in AI, so join Kate Devlin, Daniel Chavez Heras and Mercedes Bunz in this upcoming event hosted by The Digital Humanities Lecture series.
Date: Wednesday, 16 November
Time: 5.00pm – 6.30pm followed by a reception
Location: Strand Campus, King's College London
Room: Anatomy Lecture Theatre, floor 6, K6.29
Registration required: https://www.eventbrite.co.uk/e/the-digital-humanities-lectures-researching-ai-tickets-424199892297
Daniel Chavez Heras: Computational Ekphrasis
This talk will be using Computational Ekphrasis as a way to analyse text-to-image systems such as DALL·E 2 and Stable Diffusion, this talk will tease out some of the broader implications of describing images into existence for visual culture and society.
Mercedes Bunz: On the Calculation of Meaning
Machine learning systems enter the human dimension of meaning by calculating it. How does their computational approach towards meaning work and in what way is this approach shifting human epistemologies?
Kate Devlin: AI and Trust 
This talk will deliver an overview of the Trusted Autonomous Systems Hub. Can we develop socially beneficial autonomous systems that are both trustworthy in principle and trusted in practice by individuals, society and government?
The talks are part of the Digital Humanities lecture series. The series presents research in progress at the Department of the Digital Humanities, which is critically inquiring the implications of digital technologies on our global digital cultures, digital heritage and culture, exploring opportunities for computation in the Arts and Humanities, and enriching the role of these fields in the domain of Computer Science.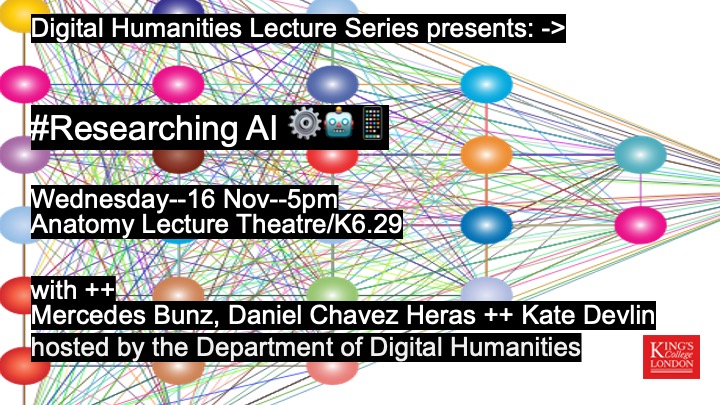 Biographies:
Mercedes Bunz is Professor in Digital Culture and Society and researches how technologies change knowledge and with it power. She is currently interested in Artificial Intelligence as a 'calculation of meaning' and co-leads the Creative AI Lab, a collaboration with the Serpentine Gallery, London. Her last publications are 'How Not to Be Governed Like That by Our Digital Technologies', in: The Ends of Critique: Methods, Institutions, Politics, edited by K. Thiele, B. Kaiser, T. O'Leary (Rowman & Littlefield) and with Claudia Aradau 'Dismantling the apparatus of domination? Left critiques of AI', in: Radical Philosophy.
Daniel Chavez Heras is Lecturer in Digital Culture and Creative Computing and specialises in the algorithmic production and analysis of visual culture. His research combines advanced technical practice in creative and scientific computing, including applied machine learning technologies, with critical frameworks in the history and theories of cinema, television, and photography. He published with Tobias Blanke 'On machine vision and photographic imagination' in AI & Society.
Kate Devlin is Reader in Artificial Intelligence & Society and investigates how people interact with and react to technologies, both past and future. She is the author of the critically acclaimed Turned On: Science, Sex and Robots (Bloomsbury, 2018), which examines the ethical and social implications of technology and intimacy. Kate has an undergraduate degree in archaeology (QUB) and an MSc (QUB) and PhD (Bristol) in computer science. She published with Chloe Locatelli 'Guys and Dolls: Sex Robot Creators and Consumers' in: Menschenliebe (Springer).
Save the dates for future lectures:
30 November, 5pm – DH research on Surveillance