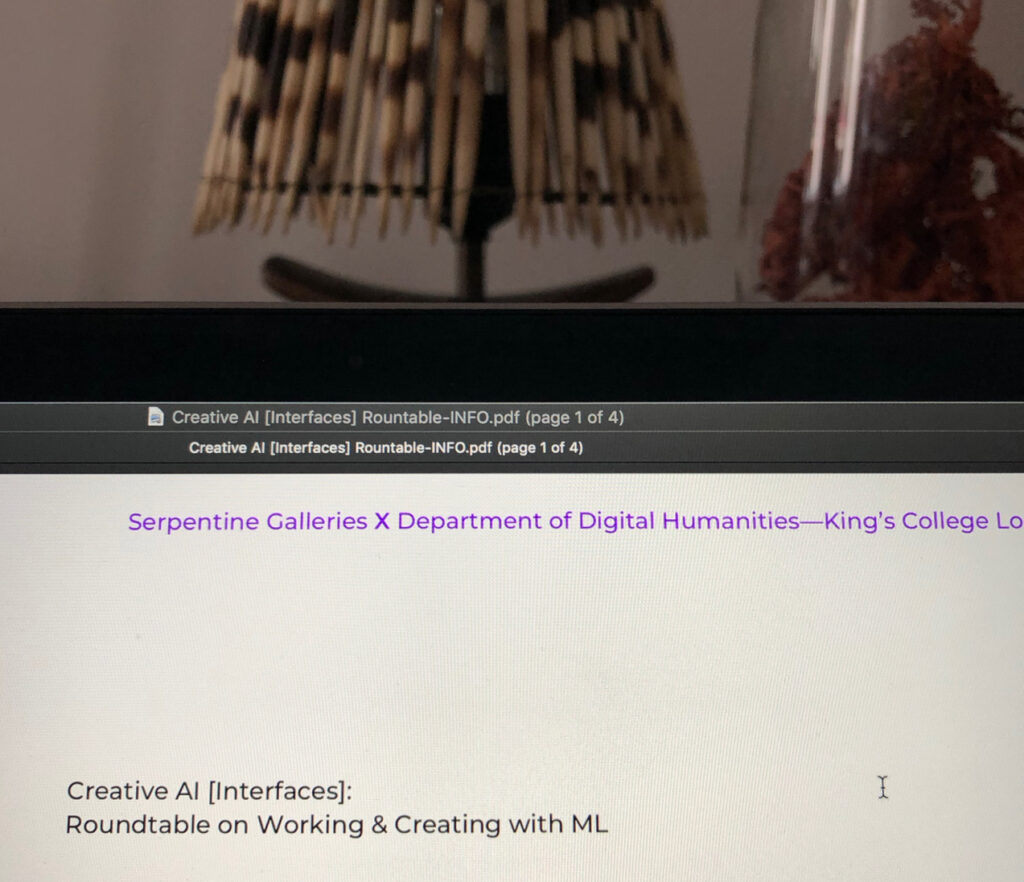 We are excited to announce a PhD scholarship for research into creative AI in artistic and curatorial practice in collaboration with the Serpentine Gallery funded by LAHP. We welcome applicants from the field of new media studies, art and gallery studies, science and technology studies, scholarship and professional practice in visual and media arts and other fields linked to creative AI and machine learning. Advanced AI expertise is not needed but we are looking for someone who can demonstrate academic achievements to study creative AI, AI as a new medium and/or new media art as these are the project's relevant subject areas. If you are curious to study the role of this new medium in art and society with particular attention to the challenges it poses for art institutions from an academic perspective in theory and practice at the Serpentine, you should apply [full project description here].
Focus of the research project
Machine learning has had a transformational impact on the corporate world while the cultural sector is still in need of acquiring adequate 'media literacy' to engage with this technology. The aim of the PhD project is to tackle the existing gap in media literacy around AI and to offer a much-needed foundation from which cultural institutions may play a pivotal role in offering a space for societal critique and reflection. Curators and cultural institutions often struggle to understand the technology's functioning and its creative capacity, holding cultural actors back from much needed engagement – the need to reflect on the societal impact of this technology critically but also creatively has been recognised widely. This interdisciplinary PhD project will research and synthesize knowledge production by linking scholarly research with cultural initiatives, in particular the Creative AI lab, generating guidance for the wider cultural sector. Part of the research project is practice-based in the form of an embedded study working with the Serpentine's Digital Commissions and Research & Development Team responsible for developing and presenting artistic projects that are engaging advanced technologies.
Background Creative AI lab
In July 2019, the Serpentine initiated a Creative AI lab in collaboration with the Department of Digital Humanities, with the aim of exploring ML as a tool for artists and gaining a better understanding of the institutional capabilities necessary to support artistic engagement with this new technology (exemplary workshop here). It is led by Dr Mercedes Bunz (Digital Humanities, KCL) and Eva Jäger (Digital Commissions, Serpentine) with Mercedes being your first supervisor.
Early AI commissions by the Serpentine have shown that the usage of AI often leads to a profound reconfiguration in artistic production. When using machine learning in art, artists need to have a computational know-how or (more often) work with a technical producer. The technical producer builds an interface preconfiguring interactions for the artists thereby becoming a co-producer more than just a contractor, which is historically the established framework for the artist-technician relationship. The use of AI as a creative medium also automates certain aspects of artistic creation leading to a tension between creativity and automatisation. Gaining further understanding of the questions around authorship, creativity and automated agency and the challenges this entails for curatorial practice is important for commissioning new projects as well as for informing cultural theory and aesthetics.
We look forward to read your applications!
Info
Host of Scholarship: LAHP
Type of scholarship: Collaborative Doctoral Awards (CDA) providing funding for doctoral students to work on a project in collaboration with an organisation outside higher education such as the Serpentine. LAHP studentships are open to UK and EU students who meet the residency requirements (more here).
Scope of LAHP funded scholarship: the studentship includes a stipend at the Research Council UK Home/ EU rate (£17,009 per annum 2019/20 rates) plus fees for three and half years.
Deadline to apply with LAHP: 1 March 2020; interviews will take place 17 or 18 March 2020 at King's College London. How to apply, eligibility and residency criteria can be on found this LAHP website.
Supervision: Dr Mercedes Bunz, Digital Humanities, King's College London
Supervision field work at Serpentine: Eva Jäger, Digital Commissions, Serpentine
Second academic supervisor: Dr Marc Hedges, Digital Humanities, King's College London
Research project: full project description here
Questions about the application process:
info DOT lahp @london DOT ac DOT uk.
Questions about the research scope of this project:
mercedes.bunz @ kcl DOT ac DOT uk